In 2009 Bronnie wrote an online article called Regrets of the Dying about her time as a palliative carer.
Working with dying people and developing close relationships with them during their last weeks resulted in raw, honest conversations about life and death, including what the patients wished they had done differently.
These revelations had such a powerful effect on Bronnie it was impossible to contain them. Instead, she honoured the requests of some of her dearly loved patients and shared the wisdom onward, through her article. As it then swept the online world by storm, with multiple-millions of views worldwide, requests poured in for more sharing of Bronnie's life and how to actually apply the wisdom she had been bequeathed. This became her best selling memoir, which has been read by more than a million people from all corners of the globe, with translations in 31 languages.
Bronnie now travels internationally sharing her knowledge with the world.
Hear Bronnie's thoughts on

'This book had a profound effect on my life.'
— Dr Wayne W. Dyer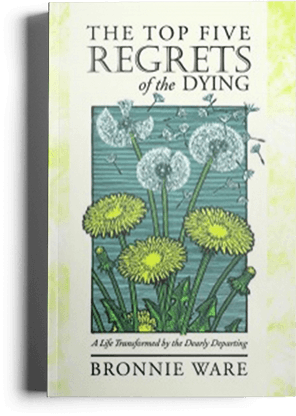 THE TOP FIVE REGRETS OF THE DYING: A LIFE TRANSFORMED BY THE DEARLY DEPARTING GIVES HOPE FOR A BETTER WORLD.
A courageous, life-changing memoir inspiring you to embrace your power of choice and the sacredness of time. If you want the courage to celebrate your uniqueness and ensure you are joyfully becoming the very best version of yourself, this book is for you.

After too many years of unfulfilling work, Bronnie Ware began searching for a job with meaning. Despite having no formal qualifications or experience, she found herself working in palliative care.
During the years she spent tending to the needs of those who were dying, Bronnie's life was transformed. She had already lived a colourful and diverse existence. But by applying the lessons of those nearing their death to her own life, she developed a profound understanding of how to be present and courageous on levels well beyond regular experience.
In this heartfelt retelling, Bronnie shares her personal story. Expressing the significance of the regrets, she shows first-hand how we can all address these issues with trust and courage, while we still have the time.


The story continues...
The film rights to The Top Five Regrets of the Dying have been optioned by Enigma Film/Fritjof Hohagen and Nicole Swidler/Germany. Bronnie lovingly supports the integrity and conscious vision of the film's producers as they translate her message into film.