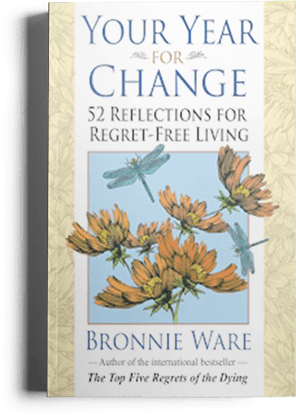 IS A COLLECTION OF SHORT STORIES AND OBSERVATIONS, OPENING YOUR EYES TO NEW PERSPECTIVES WHILE HELPING YOU TO LIVE WITH AS MUCH PRESENCE AND JOY AS POSSIBLE.

FEELING TIME-POOR BUT NEEDING INSPIRATION?
This gentle, yet powerful book will support you to embrace your life more fully, forgive your past, honour your heart, and create a regret-free future of happiness and wonder.
In this tender yet influential collection, Bronnie shares 52 inspiring stories, woven amongst observations from daily life, strengthening you with the values needed for regret-free living.
You can read one story a day, one a week or just dive on in! Either way, Bronnie's ability to open your eyes to new perspectives will also open your heart to new strengths and dreams.

Bronnie thinks of YOUR YEAR FOR CHANGE as her beloved middle-child, the quiet achiever. Although not as widely known as its predecessor, THE TOP FIVE REGRETS OF THE DYING, this book remains a favourite amongst many of her readers.
Click on your choice of bookseller below to buy Your Year For Change:

'The life you choose to experience is up to you. Your thoughts, words and actions are creating your tomorrows right now.'
YOUR YEAR FOR CHANGE
Bronnie Ware
Want to honour your heart's own song?
Want to live an inspired life free of regret?
Download your free lessons for The Path to Regret-Free Living. Plus we'll deliver inspiration to your inbox.
After all, you deserve to live with joy!